Students attending the Blind Annex participate in competitive sports programs including track, long jump and goalball, to name a few of the events. For some sports, the visually impaired students have a sighted guide who runs with them and in others, such as goalball, they compete on their own.
Goalball
In June 2011 we invited the pre-eminent goalball coach of Uganda to train our students and some of the teachers who showed potential of becoming coaches. We barely missed the deadline for getting the team ready for the 2012 Paralympic. However, we are setting our sights on participation in the 2014 games in Kampala.
Yoga
As a blind person navigating in the sighted world, it is necessary to be hypervigilant using one's hearing and other senses in order to journey through the unseen. This often causes that individual to become rigid and guarded. Yoga opens the mind, relaxing the body in a safe and guided manner. The Blind Annex students have been practicing yoga since Spring 2013.
Girls Basketball
In 2011 we sponsored a program for girls to form a basketball team in the public grounds. We knew all too well that the challenges of walking several kilometers through public streets were not very safe. This posed special challenges for many of our participants including some who didn't have shoes. It was at this time that we became supporters of a program managed through Gulu Go to build basketball courts at local High Schools. This allowed the girls to compete within their own school and play against other schools that were scheduled a few times per year. Gulu Go sent former Div. 1 team players to run coaching clinics and provide supplies, uniforms and gear for the girls. We are hopeful that Gulu High School will build their own court before the end of 2014.
Men's Basketball – Gulu Hawks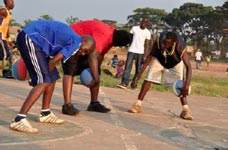 The Men's basketball team started around 2008 and has played both Division 1 and Division 2. We are supporters of their team and try to attend games when we are in town. The men on this team are dedicated athletes who also serve as volunteers for local schools. They are in need of donated equipment and funds to replace the deteriorating courts in the public fair grounds.
Boys Baseball – Waveland
Starting in Spring 2013, we will establish a "brother" school relationship between a middle school in Massachusetts and one of the new schools in Gulu. The Gulu team will also join the Gulu Baseball League. The longer-term goal is to develop a personal relationship between the players of each school and eventually travel to visit each other. You can learn more on our Facebook page at: Waveland Academy Gulu on Facebook