Equipping the VI (visually impaired) and blind students with the skills to use software and access the internet is designed to promote independence; and, enable timely completion of their work in a format accessible to them and to the sighted world. Our projects include:
Library and Technology Center at Gulu High School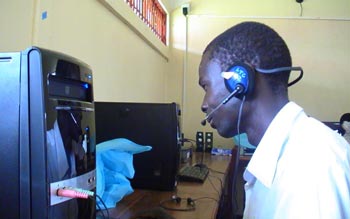 The center, which opened in July 2012, gives students open access via the Blind Annex to laptop and desktop computers. These computers are equipped with JAWS screen-reading software, MS Office Suite and access to the internet. A printer and scanner enable the students to share assignments with their teachers. In addition, a collection of printed textbooks is available for their exclusive use. The proficiency of the students attending the Blind Annex puts them at the highest level of the school. They achieve that pinnacle above the sighted students because they receive this unique training and they have access to the technology.
Gifts of Computers and Printers to Schools
Nyaka Aids Orphans Schools. Since 2012, we have given a total of 11 laptops and 3 tablets for use by the teachers of Nyaka to use in their classrooms. The teachers are so pleased to be learning MS Office and have emailed us to express their gratitude! Receiving those emails gave us a thrill! Read More Here!
The students have learned how to use the tablets and our gifts have helped to give them a sense of the flexibility of technology and experience it as something accessible and mobile. And, yes, we encourage them to take photos and play games on the tablets to build their knowledge and confidence.
Gulu Primary School. We sponsored 8 teachers from Gulu Primary School to attend a two-week computer class at U-Touch in Gulu Town. Upon receiving their certificates, we donated a computer, a modem and black & white printer for use by those who completed the class. The Head Teacher, Ms. Dolly Oryem expressed her joy and excitement that they would no longer have to make the time-consuming trip into town to write important letters!
More teachers will be invited to attend the U-Touch classes and it is our hope that the Blind Annex teachers will also learn JAWS and MS Office as this will allow their students opportunities for accessing these valuable tools.
Equipping a STEM Lab
Gulu Primary School. Starting with low-tech educational tools, games, 3D models, puzzles, Legos, maker supplies and other related materials, we have begun to outfit a STEM Lab at Gulu Primary School. The Head Teacher and her teaching team are committed to an accessible STEM curricula for their blind and visually-impaired students.
U-Touch in Gulu Town. We are in the planning stages to equip a Fundi Bots Maker Space in the new building being renovated in 2014 by U-Touch which will be accessible to all area students and hopefully, include a regional outreach to teach all the Robotics topics.
Holiday Training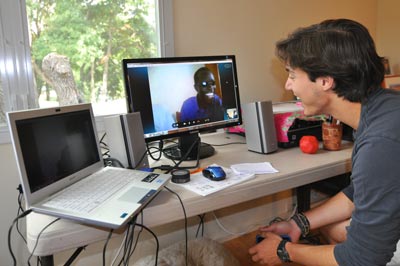 During the three breaks of the school year, while the students are on holiday, we host computer training. To round out the activities, math, English and sports are included. The program is open to students from other schools and a few members of the community. Having this extra training strengthens the skills and confidence of the students and gives advanced users a chance to assist in teaching these computer skills during the school year. This program is extremely popular among the students because they are able to see their friends and fill any learning gaps without the pressures of a full-time class. We will typically try to have a Skype call with the students toward the end of the program where they can showcase their knowledge. We are always thrilled to connect with them and to see their progress and excitement about the program.
School Tests & Exams
Instead of Braillers, students now have access to computers, the preferred way of taking school tests and mandatory National Exams. We felt that this was a significant change because students feel confident that what they write will be what the teacher sees – the interim step of having their work re-typed from Braille to a typewriter is now eliminated. This reduces the number of people involved in grading the student's work, while preserving their original intent.