Angela
Stanford Junior Summer 2011 from Dallas, TX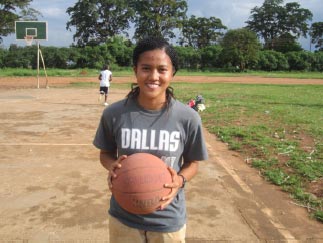 I logged more miles during my junior year of college than most people do in a lifetime: I spent 3 10-week quarters with my school's programs in Australia, Chile, and Oxford. However, going to Uganda for the summer before truly spoiled me for other experiences I would have for the rest of my study abroad. I had no basis for comparison, and I doubt I will ever experience anything as real or raw. My friend who spent a year in South Africa shared with me this simile: "…going to Africa is like grabbing the electric cord of life and holding on as long as you can." And hold on I did.
As I was on the plane to my fellowship placement in Uganda, the impossible happened – my beloved Dallas Mavericks defeated the Miami Heat to become the 2011 NBA champions. I thought that surely this was the greatest basketball moment in my life! However, it turns out that the Mavericks were not even the team I was most proud of this summer. No, that distinction goes to a second division team in the Federation of Ugandan Basketball Associations – the Gulu Hawks. Without their help, dedication, and love of basketball and service, my projects in Uganda would have never taken off. For the very first Lady Hawk practice, I was not sure who, if any, would show up, only trusting in the phone calls and messages that the Hawks delivered to skilled girls around town. Sure enough, ladies showed up and I became the main coach of these ladies for the summer, with help from various Hawks who alternated serving as assistant coach every week. I organized a weekend trip to Kampala so that the ladies could experience real competition, and with significant help from the boys, the team played their hearts out and got notice from the Kampala team's coach.
I also organized the building of a basketball court at St. Jude Children's Home, again with the help of Hawks players. These men offered their time and manpower to make the court possible, graciously accepting orders from a young and naïve university student from Texas. Not only did they physically bring basketball to these children, but they also brought their time and talents after the court was built to teach the children the fundamentals of basketball. I would teach the kids every day during their breaks from school, but I did not speak their native language and I recognized the importance of these kids having local role models to look up to for support.
To exhibit their talents, we organized a weekend tournament. Each team of around 8 children was coached by a Gulu Hawk and a Gulu Lady Hawk. The young girls were at first shy, but my Lady Hawks were able to coax them to join in. Seeing these young children learn basketball from their local basketball stars and knowing that I had connected these two groups together definitely replaced the celebration in Dallas as my top sports moment of all time.
What I learned most from this experience was not just the joy of being able to connect people. Two of the many troubles with international development work are being a foreigner entering an unknown environment and then leaving whatever work was accomplished behind without being able to sustain it. Because the programs (and myself) received such support by both native Ugandans, who truly understand the daily realities of life in Gulu, and by Sandra, who continues to return to this special town, I look back on my time in Uganda not simply with nostalgia for the wonderful time I had playing basketball there, but with hope for the future of basketball in Gulu and all the positive implications that come with sport for development.